Style and elegance: women's smart casual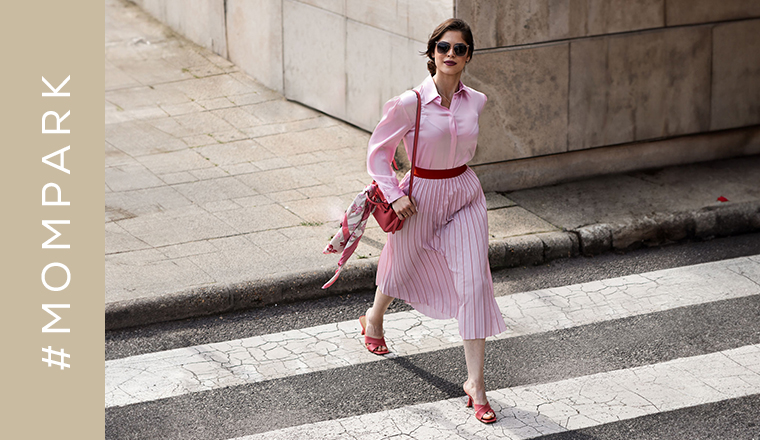 September is the month when the warmth of the previous season and the whims of the new one is with us at the same time. In this case, we can create really exciting sets in the spirit of 'it is still summer, but it's already autumn'. Here are two outfit inspirations with which we can make our appearance impeccable, from weekdays at the office to weekend relaxation.
Clothes are not only a combination of fabrics and colours but also a means of expressing our individuality and mood, especially if we match them tastefully. The result is smart casual, which is a style of relaxed sophistication, so it holds its own at both meeting marathons and weekend programs.
With a well-put-together set, we can also be stylish at work: a blouse with fine lines from the Liu Jo collection or an A-line midi skirt from Gerry Weber provide the right elegance, which can be made lighter with a soft scarf thrown loosely over our shoulders. The overall effect could be crowned with a Karl Lagerfeld or Michael Kors bag and footwear.
The same set is also great for weekend sightseeing with a little rethinking or changing one or two more conservative pieces. The midi skirt from Gerry Weber remains, but the blouse from Liu Jo can be replaced with a cashmere turtleneck from Falconeri, and the sandals with a minimalist white sneaker from La Martina. The Furla scarf also goes perfectly with this outfit; we can have pretty bags from their store, and to be ready for any weather, we are able to complement it with an exclusive, branded pair of sunglasses from Optic World.
Women's smart casual style is the art of contrasts and creative combinations. Dare to mix elegance and lightness, so the outfit will reflect the changes of the seasons. It is worth spending some time in the stores of MOM Park, getting to know the trends of the fall of 2023, and purchasing everything we might need for the new season.

Get to know everything that happens at MOM Park!