A journey into the world of movement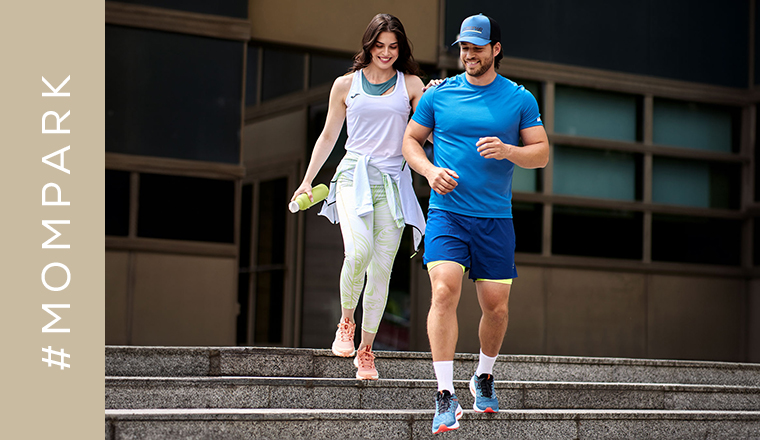 Running, fitness, street workouts, or even yoga—the right sport not only recharges us physically but also mentally. What type of movement should we try? Why does it benefit us? What are the perfect pieces of gear, and where can we get them at MOM Park? Let's see!
There are those who are fans of morning training; many like to exercise during the day, but there are also those who can only cram a workout into their day in the evening. Who moves when is entirely a matter of personal preference. As well as why anyone would want to include exercise in their everyday life. Maybe we want more shapely muscles; maybe the goal is to lose weight, but even changing to a healthier lifestyle can play a role. But what are the types of movements that are worth trying?
Running
Perhaps the easiest form of training to start and maintain but be careful: it also has its own rules. Everything starts with the shoes; it is not worth saving on this, as a bad pair of shoes does more harm than good. It is important to hold the ankle, to be properly padded, and to provide maximum comfort, as this way possible injuries can be avoided. The selection of sports and shoe stores in MOM Park is worth checking out, as everyone from beginners to professionals can find something suitable for their fitness level. If you have that, put on shorts or leggings, a breathable and moisture-permeable top, find a good running track or a gym with a suitable treadmill, and you can start running!
Gym and street workout
If we have found your favourite gym or outdoor training park, it is not worth changing. In such cases, always follow the advice of our personal trainer: don't increase the weights and sets too early, don't rush our bodies, and be patient because the results will come. And this largely depends on our equipment. Get comfortable shorts or a sports bra, a water bottle or nutritional supplements, protein bars, wireless headphones for motivational music, and a smart watch to monitor every movement in our body.
Yoga
More and more people recognize the Far Eastern form of exercise as a sport, and that is right: it strengthens our muscles, improves our posture, and increases our vitality. Moreover, it has a good effect not only on the body but also on the spirit. Through its exercises, it relieves stress, teaches you to breathe correctly, and makes you flexible—both physically and mentally. Fortunately, all you need is comfortable, stretchy leggings, a loose top, a yoga mat, and a great instructor who will guide you to the land of peace.
Get the most useful products from Intersport, Helly Hansen, Tchibo, Scitec Nutrition, H&M, ECCO, and iCentre, and move with confidence with MOM Park!

Get to know everything that happens at MOM Park!