Modern technology for every home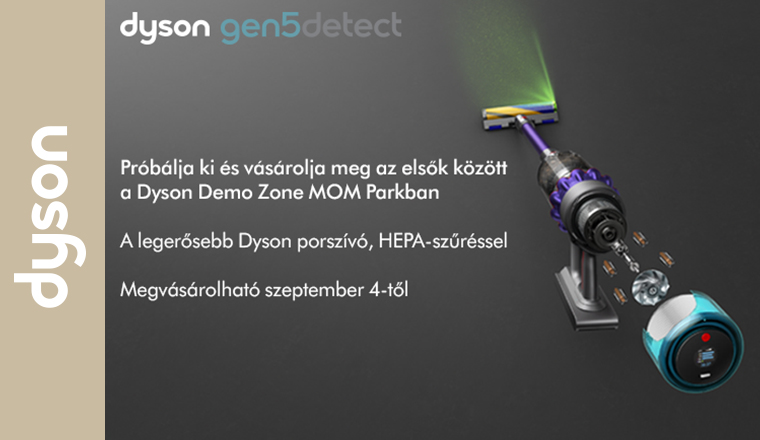 On 4 September, among the firsts in Dyson Demo Zone MOM Park, the latest wireless Dyson vacuum cleaner, Gen5 Detect, will be available. The improved one-button control of the device provides a fresh user experience, while the renewed cleaning heads ensure true hygiene.
With the increased 10-cell battery and the suction power optimized by the piezo sensor, you can clean for up to 70 minutes without loss of performance, during which the Fluffy Optic and Digital Motorbar accessories bring perfect cleanliness to your home on all surfaces.
The Fluffy Optic accessory has a stronger LED light than ever before, so it reveals all dirt within up to 300 mm, even microscopic ones. Meanwhile, your device displays a more detailed analysis of the cleaning results on the LCD display than ever before. Dyson's device is also an ideal solution for pets, as the Digital Motorbar and Hair Screw Tool electric cleaning heads with hair removal technology not only remove dirt from the surface but also from deep within the surfaces.
Thanks to the improvements, it can now be said that the Dyson Gen5 Detect has HEPA certification, so it even filters viruses. With the help of the HEPA filter, the vacuum cleaner contains all the dirt that could be harmful if returned to the air.
Gen5 Detect is a great solution in every situation. The dust and crevice vacuum built into the suction pipe can be used at the push of a button, and the device can be converted into a high-performance handheld vacuum cleaner in a matter of seconds without wasting time. It is also comfortable to use in this case, thanks to the redesigned, even more ergonomic handle.
Discover the latest technologies in the Dyson Demo Zone!

Get to know everything that happens at MOM Park!