Three captivating stories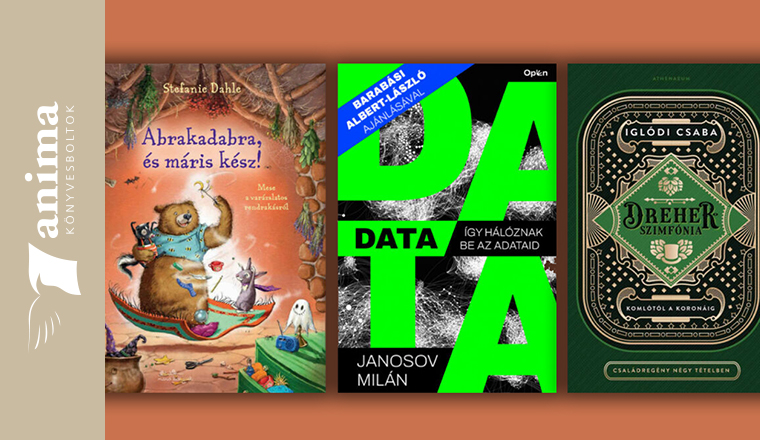 What does the magic triangle on Dreher beers represent? What makes cleaning our home really fun? What kind of invisible data network is created about us while we use our mobile applications? Three intriguing topics and three irresistible books from the shelves of the Anima Bookstore.
Legends of Hungarian Brewing
Csaba Iglódi's work, The Dreher Symphony: From Hops to the Crown—A Family Novel in Four Movements, presents the story of the Dreher family and the true Hungarian dream they lived. How did the famous brewery reach its current size? What did the four different generations of professionals add to the famous Hungarian brand? Among other things, Iglódi explores this in his family novel, which spans two hundred years and evokes real road movies.
A fable about tidying up
Abracadabra, and you're done! is a children's story about magical tidiness with the rabbit Philip, the badger Furry, and the bear Brúnó in the main roles. It playfully tells the story of forest dwellers who don't feel like cleaning their homes, so they decide to move in with their friends. During the journey, however, they not only gain new experiences but also fall in love with cleaning.
Data networks like we've never seen before
Do you also use dozens of apps every day? Did you know that most of them are watching every little move you make online, recording tons of data, using various algorithms, even AI, and in the process creating an amazing variety of networks? And that these apps simultaneously try to get to know you and understand your previous steps so that you can take the next step with their help? It's time to learn more about data-based algorithms and networks, which have become inevitable players in the background of our digital existence. Milan Janosov's book presents this world.
Don't miss any of the captivating stories; visit the Anima Bookstore in MOM Park and immerse yourself in the most exciting stories!

Get to know everything that happens at MOM Park!