The essence of the season in MOM Park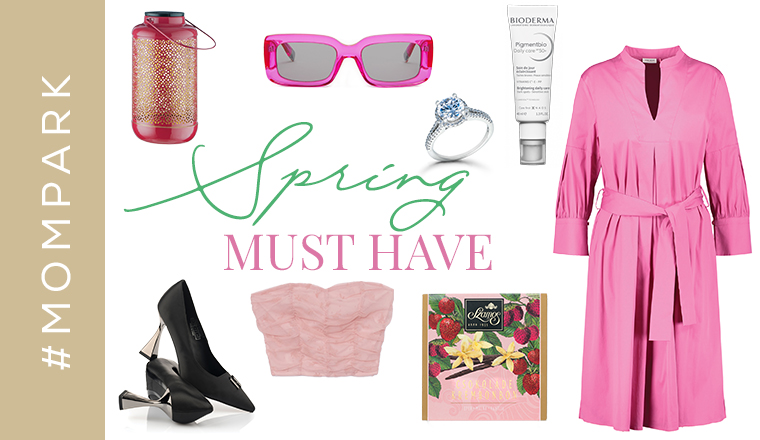 With the arrival of spring, we long to get outdoors more and more, and it is not uncommon to find ourselves under the open sky at sunset. With MOM Park, you may prepare for the outdoor activities that come with good weather. Get everything you need for this time of year - get inspired in our article!
Nothing sounds better than a fun picnic with friends and family. But to really enjoy these events, you will need some stylish and practical accessories. We have rounded up a few pieces that are guaranteed to brighten up your evening meal, but also have ideas for staying outdoors after the sun goes down.
For those light afternoons, a black Michael Kors skirt is a great base piece that can be worn in a myriad of ways, with sandals, heels or even a minimalist sneaker, and the midi cut makes it easy to wear in warm weather. It looks great with a pink Mohito top, reminiscent of the bright, cheerful hues of spring. The understated look can be offset with a brilliant Pandora necklace or a special aquamarine diamond ring from Lukács Ékszer, which sparkles beautifully in the May sunshine. A sunscreen face cream from Evital, a perfect make-up from Bobbi Brown will complete the look and last but not least, a pair of stylish Furla sunglasses that not only protect you from the sun's strong rays, but also make a stylish headband.
When the evening comes, the programme gets more relaxed. BUTLERS is also prepared for these events, with a range that includes a host of little things that may come in handy. A show-stopping cocktail glass, a garland, a cute solar lantern for mood lighting - to name just a few of the must-have items that every host should have.
An impeccable look is also a must: a brightly coloured dress from Gerry Weber is a must, complemented by Karl Lagerfeld's pumps, guaranteed to brighten up your outfit with their dark colour and comfortable yet fashionable design.
The late-night chats will also be enhanced by aromatic drinks and delicious snacks: for the former, head to the Bortársaság, where you may choose from a selection of tart wines and fresh roses. If you are more tempted by cocktails, Anita Delicate is the perfect choice. As is Szamos: their delicious cream sweets are guaranteed to sweep everyone off their feet.
With MOM Park, you too can be ready for spring activities. Visit us and discover what else our shops have in store for you this spring!
Get to know everything that happens at MOM Park!